"THIS HAS GOT TO BE THE BEST GOLFING AID EVER"
Check Out The Review's
A Lifetime of Lessons in your pocket from a top class coach

I am a low handicap player who has had lessons from Paul and his style is straightforward, suitable for beginners, but he has a deep understanding of swing dynamics and techniques needed to teach a pro.  he has taken 10 strokes off my handicap in a year and this app can do the same for you if you take it to the practice ground with you.  This app captures all areas of the golf game and costs less than on physical lesson.  The app is robust, easy to use and the videos are short and simple to follow.  I cannot recommend this enough

Buy This.  It is indeed a Masterclass

Paul's instruction is clear, comprehensive and beautifully presented.  Mostly filmed on his short game area or on the golf course Paul guides you through the sort of situations every golfer will experience during an actual round.  It's just like you are having your very own playing lesson.  from tee to green this App offers instruction on the total game and I recommend it to players of all levels.

You will not be sorry once you have purchased this app. It covers every aspect of what you ever want to know about your golf, from beginner to the hardened scratch golfer. It has to be the most valuable golfing aid ever, something you can keep and treasue forever. You will find that there will always be those little things that creep back into your game, no problem as you will find the solution here. I personally have had many lessons with Paul over the years and i cannot praise enough his methods of teaching and getting things over to you that you can understand and put into practice. This app is the next best thing to actually being there with Paul. Enjoy it. Again I repeat, you will not be sorry

Paul is a great teacher and to have the resources at your fingetips is a brilliant opportunity for you to work on your game.

Well thought out, very easy to navigate through each of the comprehensive sections. Every aspect of the golf game is covered in great detail. I'm looking forward to implementing the techniques to improve my game. Paul is a great teacher and the app is suerb value for money. Highly recommend

Having purchase the app by recommendation, I can honestly say it's a great tool for new golfers to the game who have never played golf before. And also for golfers who have played for years, brilliant tips. It covers every aspect of the game which is so helpful and very easy to get to the part you are after if needed. Well worth the money as it has instructions of hundreds of pounds worth of technical advice. Would recommend for all levels as it's so easy to follow. What I also like is Paul demonstrates all the shots per round and get your handicap down. Great App

I have had lessons with Paul for several years and he has not only improved my game, more importantly he's helped me enjoy playing more and even practice too. I was a mid handicapper getting frustrated by my lack of progress despite umpteen lessons with a professional but Paul has turned my game around and my attitude towards it. I used to think practice was about banging ball after ball on the range, but i now have drills to follow which are fun but more importantly work. The app is great because it allows me to remember exactly what Paul explained to me, stopping me fall back into old habits. Five minutes just to work on an area of the game, correct a problem or just hear Paul's reassuring explanations is a fabulous tool. Whether you've had lessons with him or not this app will help golfers regardless of there experience or standard.
LEARN FROM COACHING EXCELLENCE
Advanced Fellow PGA
Golf Monthly Top 25 Coach
40 YEARS
EXPERIENCE
40,000 lessons
Taken 5 Players to European Tour Victories
A MASTERCLASS OF GOLF TUITION
60 X 5 Minute Videos
Covering All Aspects Of The Game
GOLFING EXCELLENCE IN 60 DAYS
Spend 1 Hour A day Studying & Practicing Each Video
Achieve Full Competence in 60 Days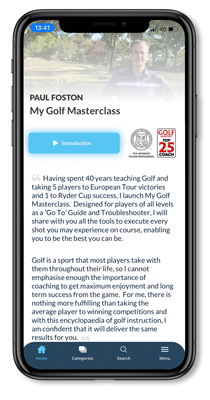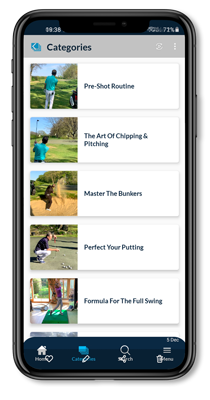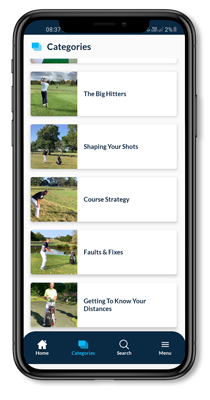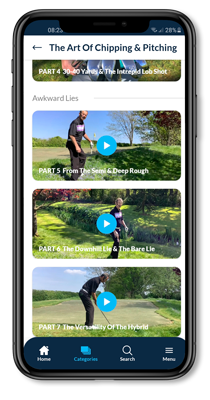 "Having spent 40 years teaching golf and taking 5 players to European Tour Victories and 1 to Ryder Cup success, I launch My Golf Masterclass. Designed for players of all levels as a 'Go To' Guide and Troubleshooter, I will share with you all the tools to execute every shot you may experience on course, enabling you to be the best you can be.
Golf is a sport that most players take with them throughout their life, so I cannot emphasise enough the importance of coaching to get maximum enjoyment and long term success from the game. For me, there is nothing more fulfilling than taking the average player to winning competitions and with this encyclopaedia of golf instruction, I am confident that it will deliver the same results for you. Paul Foston
---
The Paul Foston

Golf Academy

By Drone
---
Paul Foston Video Review by

Lynn Exley

The Mindful Golfer

---
Intensive Courses
---
Intent on improving your golf or are you a beginner who wants to get a head start?

---
Custom Fitting
---
Golf Clubs are an expensive purchase and it is so important that buy the right clubs for you and your game!

---
Corporate Package's
---
Studio 2 offers a unique opportunity to impress your clients and improve your game.
Paul Foston Golf Academy - Smarden, Kent
---
A World Class Teaching Facility
Paul Foston, Advanced Fellow of the PGA and among one of Golf Monthly s Top 25 Coaches, has designed a sensational golf academy in Kent that was described by the Director of Training & Education of the PGA, Kyle Phillpots as a World Class Teaching Facility.
This endorsement from the governing body underpins the sophistication of both the technical application to training and the design of the short game area and championship putting green. Kyle was particularly impressed with the creation of the short game course. He had never before seen a coaching facility that was designed with real life visual effects provided by the natural hazards - bunkers, stream, a two tier green, the high and low elevations that allow every golf experience to be practised here. This is fantastic for players of all levels from beginners to advanced and provides Kent with a unique new training infrastructure for both technique and touch in all aspects of the game.
---